Author/Artist:
casper_san
Recipient:
sendthewolves
Title: Burn For You
Pairing: Dean/Jo/Sam (Dean/Jo + Sam/Jo)
Rating: NC-17
Warnings/Notes: I apologize profusely for how late this is. The prompts sort of mixed in and then this came out. The muse is a fickle thing but I tried to fit a lot of your kinks in. I also added a wallpaper/banner.
Summary: Jo Harvelle was many things. An idiot wasn't one of them.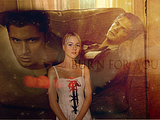 Burn For You




The night wasn't all too special. The day hadn't much importance to it though it couldn't be said for everyone – just her. After having to hike back into town when her truck wouldn't start, she decided to just head in for the night and call it quits. Pushing the door open with her foot, she kept a hand on the hilt of her knife, watching and waiting for anything and everything to come out from the shadows. Nothing showed up. With a swift kick behind her, she locked the door, making sure to add fresh salt and headed for the shower. Time to get rid of the grit from under my nails, she mused. It would be nice to get some hot water but she wasn't hoping on it. Motels tended to always come in different arrays of wrongness. The last one she'd stopped at, the shower stall had a small hole which seemed a little out of place. So she stopped it up with a wad of toilet paper and conditioner until she heard banging on the door – the manager bitching about her doing something or other. The prick complained, trying to get into the bathroom and Jo nearly laid him out right there.

Without another word, she packed her things and left. No shower was worth the aggravating knowledge that the shithead liked to peek in on women and record them while they bathed. Cops however could do something and Jo had felt smug after sending in an anonymous tip on behalf of all women who stayed there.

Worn out and dirty, Jo jumped into the shower (thankfully no holes or cracks to be seen) and lathered herself up in jasmine mint soap. Hot water gushed down her tired body, relieving some of the weeks adding up to tense muscles and torn nerves. She was just about to lounge under the spray for a few more precious moments when an unmistakable knock on the door killed all hope of that. Shit. I could have sworn there were no holes.

Dejected to have to cut her shower short, Jo grumbled, knocking her hand into the pile of towels and wrapped one around her body and another around her hair.

Walking back into the bedroom, she palmed a knife into her hand and slid it up to sleeve line before peeking out the peephole. A figure stood in front of the door. A tall figure who made sure to keep slightly out of her viewpoint hiding his or her face from sight; which really wasn't sitting all too well with her.

One. Two. Three. Jo unlocked the door and slid the blade closer to her hand. She didn't wait when the figure finally looked in the general direction of the knife.

"Yo," was all Dean said. Her mouth fell open. Eyes probably bugged out a little as well.

"What are you doing here?" She managed to say.

He narrowed his green eyes at her like she'd suddenly told him he stunk and needed to be taken out back to bathe. "What? I can't get a 'Hello Dean, how you been?' or at least 'You want to have sex with me?' Seriously, Jo what happened to your manners?"

That's when reality finally came crashing down around her. With a quick step back, she glared at him. "How about drop dead?"

Dean's demeanor seemed to melt a little. He fidgeted, scratching the back of his head. "I was just kidding, you know."

"I'm not."

"You really hate me that much?"

Jo shrugged. "Not really. Just rather see you dead then at my door."

"What did you do to her?" She caught sight of Sam coming around, a bag in his hand and she started to back away, hands flying out rapidly.

"Oh hell no. No. Sorry, this is a one bed type room and I'm not sharing."

The younger Winchester looked down at his hands then back up at her with wounded eyes and she bit her bottom lip. Fuck.

"Don't you pull that puppy dog face with me, Winchester. I'm not buying."

It was Dean who opened his mouth, which really wasn't helping their case. "Come on, Jo. We would have gotten ourselves a room but this place is filled and we can't drive anymore."

"So sleep in the car." Jo crossed her arms, one arm leaning against the door to block them from entering. Sam, as if sensing this, reached out and touched her hand.

"Jo we wouldn't bug you if it wasn't important but we got to follow this lead. If we don't get a good night's rest well be sitting ducks waiting for a slaughter."

Curiosity biting at the bit, she couldn't help but ask. "What exactly are you tracking?"

For a brief second, Sam looked to his brother, almost like asking if they should share before turning his attention back to her. "We think it might be the demon that killed our Dad."

Jo sighed. She knew something about the demon, hearing bits and pieces from her mother and Bobby. "How far behind are you?"

Dean took that second and pushed his way into the room. She stumbled back a little in shock then slammed her heel into his foot. He yelped, stumbled back himself and cursed. "JO! JESUS!"

"How. Far. Behind?" She ground through her teeth.

"A few days." Sam interjected, shooting a glare at Dean for being that stupid. You just didn't fuck with a woman that had a very impressive knife collection – especially a Harvelle woman with a knife collection. "Were following some patterns and they fit with what the demon's motives are."

With a nod, she stepped back, allowing Sam entrance. Dean gaped. "You bitch."

A tick worked over her eye. "Excuse me?"

He waved his hands. "Not you. Him."

Ignoring his brother, Sam dropped his bags to the side of the long mahogany drawers and pointed to the floor. "You have any extra blankets?"

"Maybe." She headed toward the small closet and found a dark green comforter and a scratchy blue one that had seen better days. She handed the green one to Sam and chucked the blue one at Dean's head. She heard him grumble but chose to ignore it. "Now if you guys don't mind, I'm going back to my shower. Do not disturb me unless one of you is dying or you will be."

Not really all too happy now, Jo jumped back into her shower, the hot water somewhat warm. Great, just great. And the fact that two Winchesters were going to be sleeping on her floor made it the night all the more peachier.

By the time she finished her hair and washed off, the water had turned cold. Skin pebbled with goose bumps, Jo wrapped herself back up in a heavy robe and used a third towel to dry her hair. Twenty minutes went by and still no one knocked on the door, thankfully. She'd somewhat expected them to knock at least once to use the bathroom. Throwing a tank top on and some sweats, she frowned down at her appearance. Not all that sexy. Again, she grumbled at her luck then headed out. Both brothers were on the ground, fast asleep. Hell, if Jo hadn't been talking to them a little bit ago, she would have thought someone drugged their asses.

Careful not to step on them, she moved to the bed and grabbed two of the four pillows and placed one each under their heads. As her fingers slid up Dean's neck to let go, a hand snaked up and grabbed her wrist. "I'm sorry." He breathed out. Eyes still closed, she thought he'd spoken in his sleep when his fingers rubbed at the center of her wrist gently. "I screwed up and I'm sorry I hurt you."

"You sure your just not saying that so I don't smother you in your sleep."

A smirk tugged those lips of his that she couldn't help looking at longingly. "Had thought about that but I figure you would have snuffed me out already if you planned on killing me."

"Oh I could have killed you five times over already." She looked over to where Sam slept restlessly, his face puckered in stress lines. "How bad is this Dean? I mean you don't really go around apologizing every day so this has to be big enough to get you to clear some of that cluttered mind of yours."

Those green eyes opened finally and there was no mistaking what dwelled there. "Yeah, I guess you could say it's pretty big."

Biting her bottom lip, she sat down next to him, keeping her eyes averted. "You guys need back up?"

"No."

"Dean, I don't want you going after this thing without having some kind of safety net. I could call a few people; maybe get that one hunter from Texas. He's a little sweet on me. I'm sure he wouldn't mind helping out."

When he didn't answer or seem to hear her, she looked down to find him staring at her.

"What?"

"Sweet on you?"

She snorted. "That's all you hear. Yeah, what of it? Don't tell me you're jealous."

They heard a sleepy "Of course he's jealous. He's more than a little sweet on you" from beside them and Jo laughed when Dean swung a leg out to kick Sam. As if sensing it, his brother dodged it easily and let out a laugh. "Oh come on, Dean. Grow a pair and tell her."

"Should I also tell her about that sex dream you had of her? Or the time you moaned her name by mistake when you were with that waitress?"

Jo blinked in shock. "Say what now?"

She watched as Sam sat up with a flush of color to his cheeks. Really the thought of both brothers being interested in her both baffled and flattered her in the weirdest way; not to mention sent sudden images into her head with clothes loss and body parts moving together.

Dear God, it looked like another shower for her.

"It was one time. And I told you confidence, dick." Sam muttered that earned a grin from his brother.

"So…what you're telling me is…you both want me?"

Silence filled the room as they both exchanged looks between each other. Neither wanted to look her in the eye especially Dean who seemed suddenly interested in the peeling wallpaper over by the dresser. And Jo found out why when she leaned in to catch his face with her hands. He had his set of rosy cheeks.

"Oh my God. You do!"

"Quit being a girl about it." Dean stated, prying his face from her hands.

"Uhm, news flash Princess, I am a girl. Hence the boobs and the non-dangly genitals."

The mention of said body parts had him looking back to her and checking out her goods. "And my, what a nice pair of boobs they are."

Sam rolled his eyes at this.

Dean smiled back. "Oh come on, you know you were thinking it."

"Not the point," Sam mumbled and turned a darker shade of red when she caught his eye.

Jo couldn't help but play with this new development. "Then what exactly is the point, Sammy boy?"

"I – uh – well that I'm not that" hands flailing, the younger Winchester flustered, trying to figure out what the hell to say and failing miserably "you know."

Looking to Dean who just shook his head in shame at his brother, she turned back to Sam and decided to take a chance. "You sure you're not interested in me?"

Sam stilled and looked at her in wonder. She took that as initiative and slipped into his lap, wrapping both her legs around his waist. There was no missing the large bulge pressing into her belly or the way his pupils shrunk at this new position.

"Woah, I don't need to be here for this if you plan to sex up my brother, Jo." Dean started to get up but she snagged his arm.

"Oh I plan to do that and you." She replied huskily and tugged him down. He didn't resist, allowing her to pull him closer. "I plan to do a lot of things with both of you."

Strangely it felt right, having them equally catering to her needs and desires as she gave back her desire for them. It would be lying if she said she wasn't attracted to the Winchesters. It would be even worse if she tried to deny herself a little distraction from her world. And it seemed they needed it just as bad with the way they craved her touch, her comfort. Knowing them for years now, she knew life seemed to always shit on them just as much as it shit on her and her family. Shit, they would think something not right if stress and death didn't come darkening their doorways.

Jo Harvelle was anything if not grateful for what she did get and she wasn't about to look a gift horse in the mouth.


"Kiss me," Jo breathed out and crushed her mouth to Dean's before he could even contemplate her demand. Her tongue pushed past his lips, dueling for dominance. Meanwhile her legs wrapped tighter around Sam's waist and grinded her hips against his. She could hear Sam let out a moan as her sweats dipped down and revealed the crack of her ass. No panties. A smirk tugged at her lips when she felt a hand touch the curve of her ass, running fingertips along the edge of her waistline, teasingly, before dipping down to cup her ass. "Seems someone is a little impatient."

Dean broke the kiss and looked to find his brother had disentangled from her and now hovered behind her. "Sammy is an ass man."

Adjusting her legs around Dean, she pushed back and looked up to find Sam's mouth on hers. She gasped, her fingers filing through his hair. In this position, her chest stuck out ready and poised for Dean to reach out and toy with her breasts.

She let out a laugh. "Let me guess – you're a breast man."

Eyes dark with lust, he lowered his face to a covered nipple and enveloped it into his mouth. She gasped and dug sharp nails into Sam's scalp. The thin fabric of the tank stuck to her skin, revealing a pert, happy nipple to Dean. He applied the same treatment to its twin and Jo had to bite back a curse when Sam dipped his hand down in the front of her pants and started to curl a finger into her now soaked folds. Fuck that felt too damn good. His fingers weren't exactly small and when he brushed a knuckle along her clit, she shuddered and clung tightly to Dean's shoulders.

"Shit." Sam chuckled while Dean reclaimed her mouth, pushing his tongue in her mouth and pulled at her top lip with his teeth. Senses overloaded she barely felt it when he lifted her up so Sam could pull her sweats down or exactly when her tank went sailing across the room. The only thing she could zero in on was the feel of Sam dipping his fingers in and out, making sure juices trailed down her thighs and her breathing became frantic. When he was satisfied, he used those juices along the lining of her ass cheeks, dipping in with his middle finger to coat her hole. She finally noticed that Dean still had his clothes on. "Off. Now." Before he had a chance, she started tugging at his pants, undoing his fly and sinking her hand in to grab a hold of his hard length and sighing in content when he slipped out a condom from the back pocket of his pants. "Came prepared, have you?"

"Always." Dean said, slipping the rubber on before doing what his brother had been doing seconds ago – only he dropped to his knees and used his mouth. They were trying to kill her!

She let out a yelp when he used teeth on the sensitive nub and nearly crashed to the floor when an orgasm came rocketing through. Thankfully Sam had his arm wrapped securely around her, as if anticipating her weak-knee moment. Damn, she really needed to not underestimate Dean and that skillful annoying mouth of his less. If only he used it for better purposes like he'd just done instead of driving her nuts.

"Damn it woman, you barely touched me and I'm hard as a fucking rock." Dean looked down and her eyes followed to find that he indeed looked about as hard as a fucking rock. She licked her lips. That little action caught his attention and those green eyes heated further as he swore about ten different curses in one breath.

She didn't give a moment's passing. Reaching out, she grabbed him. Squeezed until she knew he would explode soon. Sam pressed himself against her from behind and she took a long breath, released Dean and braced herself. Discerning her body language, Dean looked over to brother who picked up on it and started to massage the muscle just above her bottom. She immediately started to relax and let out a low moan of gratitude. Hiking her leg up, Dean positioned himself just at her entrance and waited for Sam to do the same. When they were both ready, Dean locked eyes with her. "Kiss me." She didn't hesitate, clashing her teeth against his. Eyes fluttering shut, she only had a seconds reprieve before suddenly she was filled in both ends. She let out a cry of surprise. Nails dug into Dean's shoulders while Sam took more of her weight onto him. He pulled back, again massaged her backside then entered. When he rocked in, Dean pulled out.

Her body rocked back and forth in their rhythm. So many muscles were being used, so many nerves being touched. She had to hold her breath in when someone hit a sweet spot that had her stomach jumping and body clenching.

Body shaking, she could feel Dean's legs flexing and relaxing. "Sit on the floor, Dean." She whispered against his lips. He did as suggested though he made sure she never slipped out. Now in his lap, she used her feet on either side and rocked back and forth, to Sam and back to Dean. The brothers moaned in unison when she snapped her hips and swirled them, hitting a new angle all together.

It felt amazing having both of them inside her. Wicked ideas that had started to form earlier came back full force. Confidence boosted, she told Sam to tug her hair. He grabbed a hefty amount, yanked back and slammed into her. She felt her nipples tighten all the harder. Soaked Dean's lap with more of her juices and found that he'd leaned forward to feast on those now hard pebbles. With a pop he released the one, blew on it making her gasp before claiming it again.

Sam watched this before deciding to take advantage and started to nibble and lick her exposed neckline. Oh God, why hadn't she thought of this sooner? Look at what she'd been missing.

This was just pure torture and pleasure all wrapped into one. Where had this been those few weeks back when this pleasure would have made her a very sated happy camper? So wrapped up in the throes of so many different stimulations, she didn't expect her release to come until it exploded throughout her body, seizing both cocks inside of her, milking them until Sam collapsed along her back while Dean rested his face between her breasts, trying to catch his breath.

"Well," Jo breathed slowly, "that was fun." She felt like a content kitten after just being rubbed and fed. Kissing her brow, Dean shook his head at the look of pure satisfaction on her face. If he wasn't so drained, she might have had him going for round two real soon. Sam pulled out and went to the bathroom to grab a towel. Tender and sweet, he cleaned her up and then himself.

"Shower." All three of them gave a slow nod. "Sam go ahead and jump in first."

Not one to argue, his younger brother headed back in while Dean piled Jo into his arms and rested his chin on her head. She pressed her nose into the crook of his neck, inhaling his musky scent of rock salt and the road air.

"You know I'm not sharing."

She frowned. "Sharing what?"

Running a hand up her bareback, Dean chuckled. "For someone who wanted me to commit, you sure are dense." That earned a pinch to the ribs. "Ow!"

"You think Sam will be upset?"

"Nah. He knows how it is between us."

She leaned back to look at his face. "And how is it between us?"

"Depends," The hand running up her back dipped into her still wet strands, "if you want to make this an open relationship or a threesome."

Jo pulled her arm back to crack him but he seemed to already know and open-mouth kissed her.

"I'm kidding, you idiot."

"What do you want then, Dean?"

The mood in the room changed and his eyes didn't hide just how bare and open he was being with her. "I want to be with you. I want a normal life though I know that's not possible. But I'm tired of running away from the good things in my life. So…do you mind sharing diner cheeseburgers and motel beds with me?"

Jo smirked. "I think that's the most romantic thing you've ever been with me."

He shrugged, scratching the back of his neck nervously though he tried to play it nonchalantly. "I try."

Jo Harvelle was many things. A woman. A hunter. A daughter. "Yeah I think I could live with that." And a believer. "But no stealing my fries, pal. I earned all that greasy, fatty goodness for myself thank you."

Dean pulled her back to his chest, holding her close to his heart. "We'll just steal Sammy's then."

She grinned. "Deal." Jo Harvelle never passed up what was given to her. Especially the good things like a Winchester's heart.